Interviews
PorcFest 2023 – RFK Jr. on NH seceding, Etienne de la Boetie's laboratory for liberty, and the hills we die on
---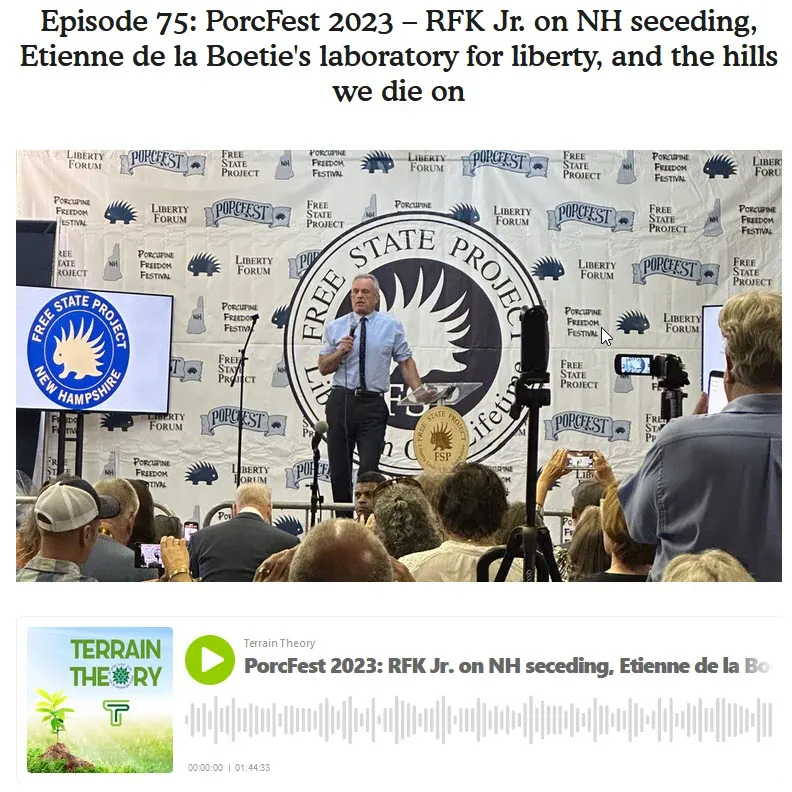 Co-hosts Ben and Mike invite friend and brother Tim Storrs into the studio to reflect on three highlight moments from their recent shared experience attending the Porcupine Freedom Festival – aka PorcFest – in Lancaster, NH. The three moments they look back on are:
RFK Jr. responding to a question about New Hampshire seceding from the Union
Etienne de la Boetie2 outlining his plan to turn New Hampshire into a "laboratory for liberty"
Singer/songwriter Brendan Daniel performing "The Hills We Die On"
Learn more about PorcFest on their website. Learn more about Etienne de la Boetie2 at his website.

Terrain Theory episodes are not to be taken as medical advice. You are your own primary healthcare provider.

If you have a Terrain Transformation story you would like to share, email us at ben@terraintheory.net.
Please follow and like us: