---
Get an update and sneak peek of the 5th Edition content and my take and investigation into HBO's The Anarchists and the latest of our investigation into "The Covid".

Enjoy these pokes at the powers that shouldn't be.
---
Update on 5th Edition of "Government" – The Biggest Scam in History… Exposed! Investigation into "The Covid"
Book update: I have decided to split the 5th edition of "Government" – The Biggest Scam in History… Exposed! into two different books. The second book will be entitled "Solving Covid" – The Second Biggest Scam in History… Exposed!.
We should be ready to send the 5th Edition to "Government" to the printer in a week or so!!! Solving Covid will take a little longer.
For everyone who supported the IndieGoGo OR Pre-ordered a copy of the 5th edition, we will publish both books as a single publication known as a "Swiss Flip" where the cover of "Solving Covid" is the back cover of the 5th edition of "Government" and the pages are upside down until the middle. Our gift to you for your patience in making these two books a reality!!
We're having a little contest to crowdsource the best photograph (or photographs) that sum up scam of "The Covid".
You can check out my entry above of UK Crime Minister Boris Johnson, Italian President Sergio Mattarella, Italian Prime Minister Mario Draghi, and family members removing their Covid masks after a photo opportunity at a 2021 G20 Event. Unfortunately, it is a screen grab from a video so the quality is low.
Think you have a better example of the scam of "The Covid"? Please send entries to Evidence@ArtOfLiberty.org and the winner will receive a signed hard copy of the 5th edition!
---
Latest Estimate: Book Should Ship to Printer by:
I am going to just quit making predictions! BUT we are getting close… We are down to the last section of the book and laying out the new cover and interior.

64GB Liberator Coming – We are expanding: The Liberator to 64GBs. Everyone who ordered the 32GB Liberator will get many additional GBs of material for free!
Funding: Since we only raised $20,000 ($15,250 from IndieGoGo and ~$4,750 in Epic Cash) of our $35,000 goal we are looking for a heavy hitter or two to help us get the book out in a BIG way. If you or anyone you know might be interested then please e-mail me at Etienne@ArtOfLiberty.org where I can take you through the new edition and plans.

Free Download of the 4th Edition for IndieGoGo and Five Meme Friday subscribers – We are making the 4th edition of the book available for free download to our IndieGoGo backers, Five Meme Friday subscribers, and anyone who downloads the full Liberator. You can find the 4th edition with all the hypertext links in the Liberator#1 Dropbox here: https://www.dropbox.com/sh/cocj4c4g4dge5ae/AAD989ik8cHQaoINjIrw9q3da?dl=0
---
The Liberator – Our archive of "government" and media criminality
Important Note: New additions are added to the authoritative Liberator Dropboxes regularly but will not appear in the physical credit card-sized flash drive until we launch the next version. Anyone can download the current contents of the Liberator FOR FREE including all the primary sources and evidence from our investigation into "The Covid".

Liberator #1 – Companion media to "Government" – The Biggest Scam in History. Exposed! https://www.dropbox.com/sh/cocj4c4g4dge5ae/AAD989ik8cHQaoINjIrw9q3da?dl=0
Liberator #2 – Evidence of False Flag terror for police state and hoax shootings for gun control: https://www.dropbox.com/sh/f8vwa29bg8wpp0r/AAByoYT8XcVsbgUYFmrVPLxia?dl=0
Liberator #3 – Evidence that "The Covid" has been a scam and the vaccines are killing people: https://www.dropbox.com/sh/flf3694718or4tb/AADBa0rLhBC2hlbAH7uo3DE4a?dl=0
Liberator #4 – Voluntaryism and more evidence of "Government" corruption: https://www.dropbox.com/sh/tavm9guzgy26sn0/AACXIsDvOkhOebCS4jd0IcVKa?dl=0
Liberator #5 – Prepping and Self-Sufficiency – Hundreds of resources: https://www.dropbox.com/sh/ow588jfgvq0y40r/AABXTfrhNaVBN4ZpmxSwliAra?dl=0
Video of the Week
How Elites Will Create a New Class of Slaves | Whitney Webb | The Glenn Beck Podcast | Ep 162
Journalist Whitney Webb calls out the "Government" as being run by organized crime on Glenn Beck's show… and Beck agrees! Webb has worked to uncover some of the most dangerous stories of our lifetime, and she joins Glenn to reveal just how eye-opening it's been. Her new two-volume book, "One Nation Under Blackmail: The Sordid Union Between Intelligence and Crime that Gave Rise to Jeffrey Epstein," examines Epstein's elaborate network of corruption and power, from Bill Clinton to Ghislaine Maxwell and many more. Her research into transhumanism has given her a terrifying perspective on the World Economic Forum and tech elites, including Elon Musk. And she tells Glenn the dark truth about Biden's push for electric vehicles that she noticed while living in Chile.
Introducing the White Rose Society
The White Rose Society is a decentralized group of 60,000+ activists around the world that make and distribute resistance stickers to "The covid" and organized crime government generally. Anyone can participate. All you need is a low-cost Brother QL-800′ label printer (~$100 new or cheaper on Ebay). Download their stickers archive for free and print and distribute whichever stickers strike your fancy for a very low cost.
You can get a sneak peek had a project the Art of Liberty Foundation will be launching soon entitled the White Rose MUCHO GRANDE where we will be making a file of free POSTERS to distribute that anyone can print on a large format printer plotter.. Looking for someone to host a gallery showing of the posters and film it… contact me if you are interested. ArtOfLiberty.org/white-rose
You can get a sneak peek had a project the Art of Liberty Foundation will be launching soon entitled the White Rose MUCHO GRANDE where we will be making a file of free POSTERS to distribute that anyone can print on a large format printer plotter.. Looking for someone to host a gallery showing of the posters and film it… contact me if you are interested. ArtOfLiberty.org/white-rose
Tucker Carlson: The CIA and YouTube Interfered in Brazil's Election
House Republicans are wasting no time launching a serious investigation into numerous high crimes and misdemeanors allegedly committed by President Joe Biden and his son Hunter Biden.

The House GOP, fresh off a narrow election victory in the 2022 midterms, announced the nature of the investigation.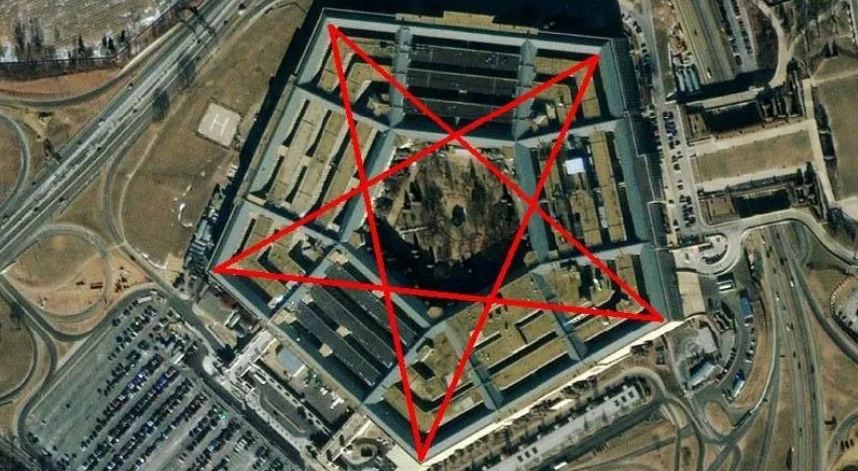 Pentagon Fails Fifth Consecutive Audit Amid Ukraine Oversight Concerns
The Pentagon has failed every audit since they started in 2017
Amid concerns about the lack of oversight for US arms pouring into Ukraine, the Pentagon's comptroller said that the department has failed its fifth consecutive audit.
The Pentagon began independent financial audits in 2017 and has failed everyone since. Pentagon Comptroller Mike McCord told reporters that things didn't look much different in the audit from the previous year and that it was "not the progress I would have hoped for."
The audit of the Pentagon's $3.5 trillion in assets and $3.7 trillion in liabilities concluded that the department's internal tracking of money and arms is still not good enough for a passing grade. Pentagon officials have said they hope to pass their first audit by 2027.

Etienne's Comment – I can't believe this article didn't mention the work of Catherine Austin Fitts and Professor Mark Skidmore who have chronicled over 21 Trillion in funds unaccounted for at the Pentagram and the Dept of Housing and Urban Development. Hopefully, it is getting obvious to more and more people that "government" is simply organized crime and we are getting robbed for trillions with the media bought off not to connect the dots.
Interview of the Week
Etienne de la Boetie2 on Jerm Warfare with Jeremy Nell
Etienne breaks down voluntaryism – The only "Ism" fair for everyone that leads to harmony and prosperity for all! We also discuss Larken Rose's The Most Dangerous Superstition which Jeremy just discovered. The 2nd best-selling book in the Art of Liberty on-line store where we have it cheaper than Amason and the book I gift the most after my own!
News of the Week
Katie Hobbs's Impossible "Win" Over Kari Lake

Just like the 2020 presidential election, we are now in realtime witnessing the Arizona race for governor being stolen in plain sight.
The midterms were never about which candidate garnered the most votes, they were always about how the Democrats would ballot harvest.
If winning an election is a popularity contest, then social media metrics would provide meaningful insights into which candidate will win — the more followers and likes, the greater chances of being elected; to wit: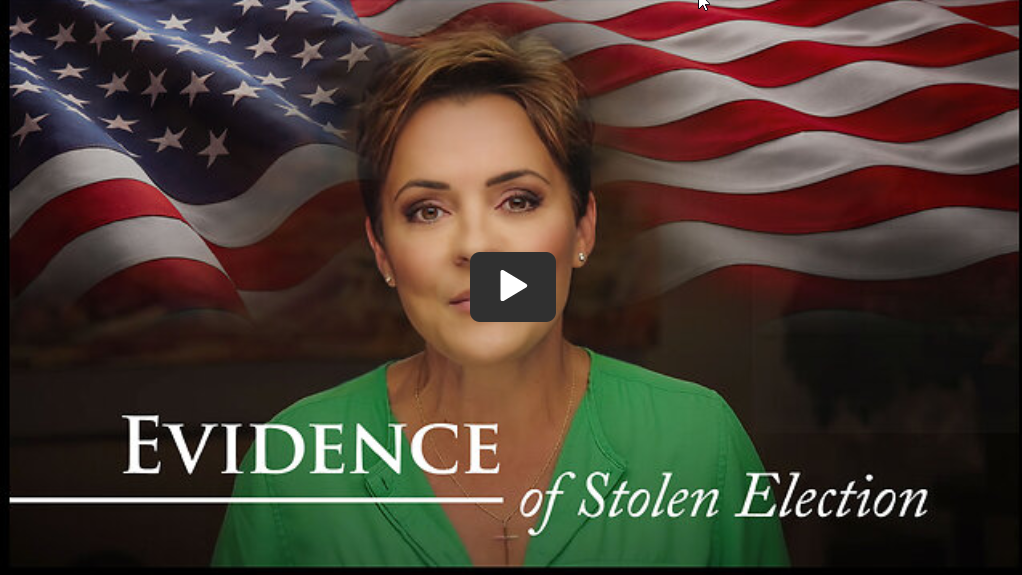 Evidence of a Stole Election
For those following the stolen AZ election there is even more evidence of corruption in this video from Stop World Control: https://rumble.com/v1uqrrq-evidence-of-midterm-election-steal-watch-now.html?fbclid=IwAR0-nR8PSOh30aUJOZQkUWZbPQ5Etd6Lf5Pi0ykrB4wXV82fMuyU-fDrkds We aren't picking sides we are just highlighting the complete corruption of the organized crime "government" blatantly and obviously stealing elections AND the futility of wasting your time in a rigged game where monied interests can so easily cheat the popular vote. Not to mention it is illogical, immoral and voting to rob your neighbors!
Here Come "Programmable Dollars": New York Fed And 12 Banking Giants Launch Digital Dollar Test
Never let a crisis go to waste. Or a market crash for that matter.
With equity and bond markets stuck in brutal bear markets and providing a sufficient distraction to what is happening behind the scenes, the Fed and a group of banks have been quietly preparing for the next stage in the "organized crash" pipeline: the rollout of CBSC.
According to a statement by the New York Fed, global banking giants are starting a 12-week digital dollar pilot with the Federal Reserve Bank of New York, the participants announced on Tuesday.
Citigroup, HSBC Holdings, Mastercard and Wells Fargo are among the financial companies participating in the experiment alongside the New York Fed, which will provide a "public contribution to the body of knowledge on the application of new technology to the regulated financial system."
Nanorobotics in C19 injections by Dr. David Nixon – A 2 minute video that says it all

Another Dr. David Nixon video showing what appears to be nano-scale mini-machines constructing larger structures from components injected in the C19 "vaccines". We break down the history of 26 different researchers and research teams from 16 countries finding undisclosed nano-tech, metals, and apparent synthetic biology in C19 vaccines in the latest excerpt from our upcoming new book: "Solving Covid" – The Second Biggest Scam in History… Exposed!
Elon Musk's "We Don't Censor Anymore Twitter" Censors Zero Hedge/Tyler Durden Drop on FTX ( Democrat/Intelligence Agency Money Laundering)
Zero Hedge's Tyler Durden dropped an expose of fascinating info on the new and improved "We Don't Censor Anymore Twitter" on who was really behind the FTX scandal. FTX is smelling more and more like a money laundering operation for the Democrat party and intelligence agencies where they already had the regulators "in the bag". The twitter thread disappeared off CIA Twitter BUT was archived by a rock star Art of Liberty Foundation supporter.
Government publishes horrific figures on COVID Vaccine Deaths: 1 in every 310 people died within 1.5 months of receiving the COVID Vaccine Booster
Official figures published by the UK Government confirm 1 in every 310 people who received a third dose of the Covid-19 injection in England by 31st December 2021, sadly died within 48 days.
Detoxing the Virus
Here is a study showing benefits from Intravenous Vitamin C with pre-and post bloodwork

No issue in the history of medicine has been as strident and polarized as that of the risk/benefit profiles of the various COVID vaccines being administered around the world. This article does not seek to clarify this issue to the satisfaction of either the pro-vaccine or the anti-vaccine advocates. However, all parties should realize that some toxicity does result in some vaccinated individuals some of the time, and that such toxicity can sometimes be unequivocally attributed to the preceding administration of the vaccine. Whether this toxicity occurs often enough and with great enough severity in vaccinated persons to be of greater concern than dealing with the contraction and evolution of COVID infections remains the question for many people.
DIane Kazer's Videos on Detoxing the "Vaccines"
Diane Kazer is a personal friend (and Functional Diagnostic Nutrition Practitioner, Certified Detox Specialist, and Toxins Expert) from Sedona who I reached out to for suggestions to detox a good friend who had taken the jab. She sent me the two videos below which I wanted to pass along to our subscribers. I am collecting and evaluating detox protocols. Please send me any information on trusted protocols and practitioners to Evidence@ArtOfLiberty.org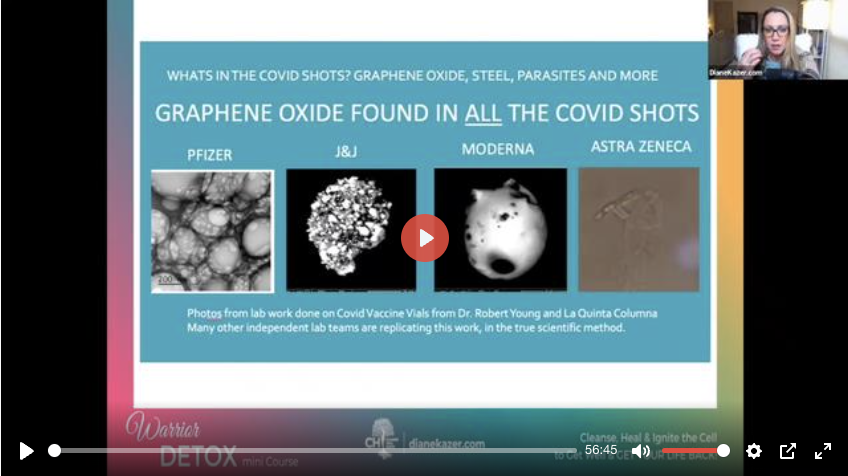 MUST WATCH: DETOX FROM THE COVID VACCINE, GRAPHENE OXIDE, SPIKE + EMF / 5G PROTECTION
Upcoming Liberty Events
---
Jan. 18th – 22nd 2023 – The Greater Reset – Morelia, Mexico, Bastrop, TX and on-line
March 3rd – March 5th 2023 – Manchester, NH – The Free State Project's Liberty Forum
Get together: Meet others, have fun, and get involved: Arizona: Sedona Freedom Movement, Sedona Conscious Collective California: Complete Liberty(San Diego), Santa Cruz Voluntaryists, Bay Area Voluntaryists , The Mises Circle Orange County (Newport Beach) Colorado: We Are Change(Denver),Liberty on the Rocks (Denver), Kansas: Libertarian Free Thinkers of Kansas City, Michigan: The Michigan Peace and Liberty Coalition(Detroit) New Hampshire: Free State Project, Free State Project Calendar of NH Liberty Events (statewide), The Praxeum (Liberty Center in Dover/Portsmouth, NH), The Wearehouse (Liberty Center in Weare, NH), The Quill (Liberty Center in Manchester, NH) The Shell (Liberty center in Rollinsford, NH) Massachusetts: Boston Liberty Hang Out New York Anarcho-Capitalist Meet up, Texas:Voluntaryists of Dallas/Fort Worth, Houston Free Thinkers, Voluntaryist of Austin Utah: Bountiful Voluntaryist Meet Up Virginia – Liberate Richmond Washington State: Seattle Ancaps Voluntarists Libertarians, Tacoma Liberty on the Rocks.

Europe: London Anarchy Meetup, Libertarian Meetups – Göteborg, Sweden
Asia: VOLUNTARYISM! Living Peacefully and Morally! ( Pattaya, Thailand)
Everywhere: Freedom Cell Network, Caledonia
Have a Liberty event, group or meet-up that you would like featured in our calendar? Drop us an e-mail to: Events@ArtOfLiberty.org
Memes Bonanza
Unsolicited and uncompensated plug for David Rodriguez' Valor Academy. David can get your child an accelerated graduation so they can get on with an apprenticeship, homeschooling with self-directed learning, early college classes, or entrepreneurship. DrVisionary@Protonmail.com
Free State Project Corner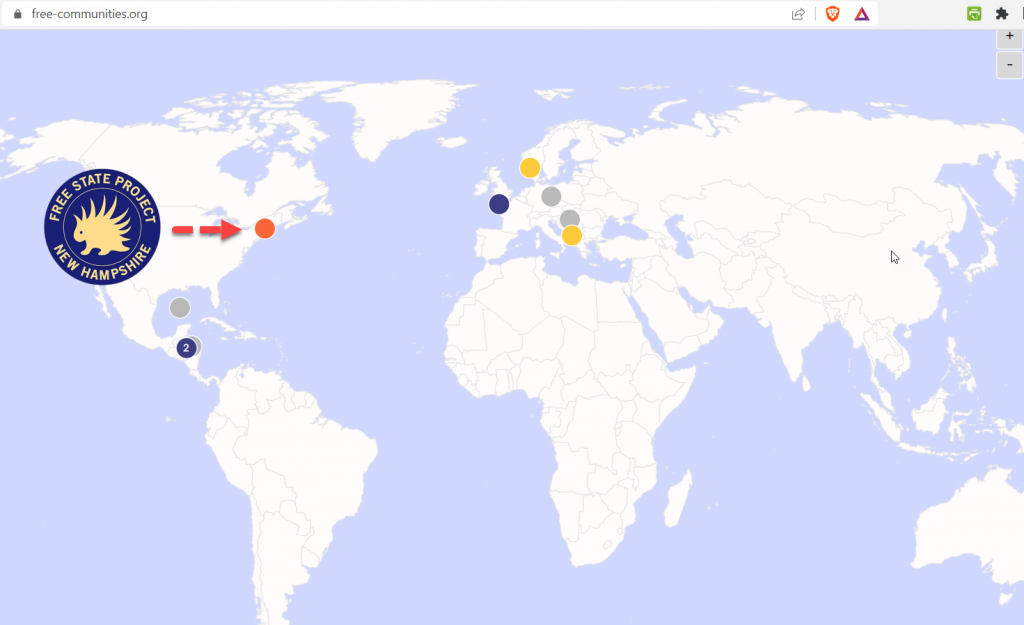 The Free State Project makes the Free Communities Directory of the Free Cities Foundation.

The directory showcases places and projects that aim to bring more freedom to residents through innovation in governments and other means. The Free Cities Foundation works with small territories that are adopting Liberty oriented policies to give citizens more choice in the rules that govern their lives.
A summary video of the Free Cities Foundation's recent global conference in Prague. 4 and 1/2 minute boil down summary of the movement to "exit and build" in self-selected communities with pre-negotiated taxation and regulatory requirements and/or states like New Hampshire where libertarians and voluntaryists are concentrating to effect political, social and societal change. It's a global movement.
The Everything Bundle
The Everything Bundle – The Sampler of Liberty!
Give me Liberty… and give me more! The Everything Bundle includes the latest version of our flagship book on government, along with a collection of potentially life-altering introductions to anarchy, agorism and voluntaryism.