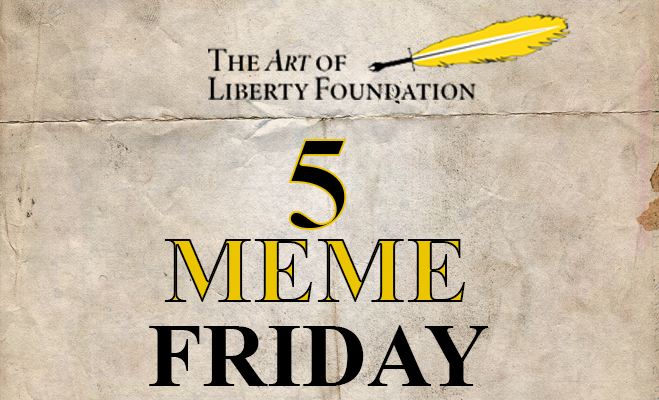 ---
Five Meme Friday! The Art of Liberty Foundation is taking 5 Meme Friday to the next level. We have professionalized our weekly newsletter with 5 dank memes and the best of the alternative news, censored videos, etc. Read on, enjoy this week's issue.
Enjoy these pokes at the powers that shouldn't be.

---
---
5th Edition of "Government" – The Biggest Scam in History… Exposed!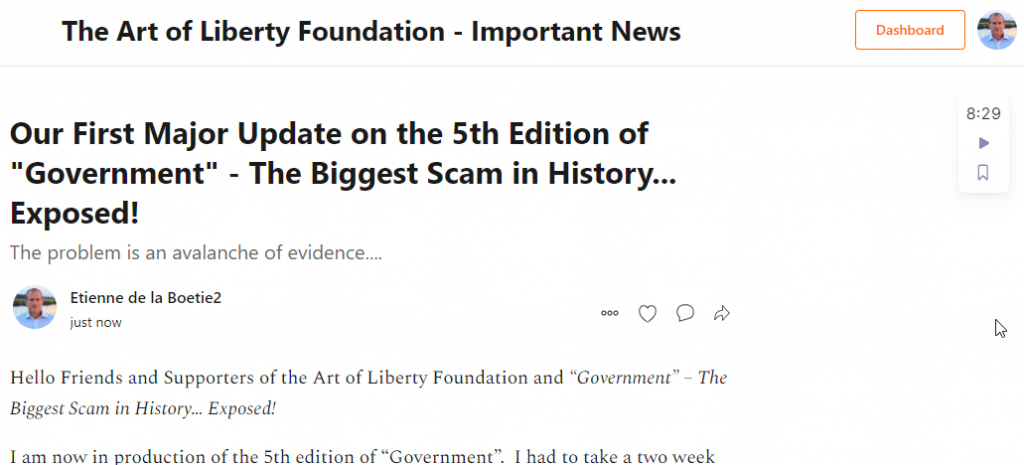 Our First Major Update on the 5th Edition of "Government" – The Biggest Scam in History… Exposed!
Upcoming Events
* Libre Planet – Free Software Foundation's Conf March Cambridge, MA
* Flotefest – April 27th-May 2nd 2022 – Gause, Texas
* Porcupine Freedom Festival June 21st – 27th New Hampshire
* Rainbow Gathering June 28, 2022 through July 28, 2022 TBD-Colorado
* Freedom Fest July 13th-16th Las Vegas, NV
* Midwest Peace and Liberty Fest August Michigan

* AnarCon August 5th-7th Richmond, VA
* The Jackalope Freedom Festival August 1st-14th Baca Meadows, AZ
* The Freecoast Festival September Portsmouth, NH
* Mid-Continent Liberty Festival(MidFest) October 2022 – Tahlequah, OK
Get together: Meet others, have fun, and get involved: State By State: Arizona: Greater Phoenix Mutual Aid and Safety Society Colorado: Denver – We Are Change, New Hampshire:Free State Project, Portsmouth The Praxeum, The Shell Texas: Houston Free Thinkers, Voluntaryist of AustinVirginia – Liberate Richmond, New YorkAnarcho-Capitalist Meet up, Bay Area Voluntaryists, London Anarchy Meetup, Libertarian Free Thinkers of Kansas City, Voluntaryists of Dallas/Fort Worth, Caledonia(everywhere)
---
"Government", Media and Academia Criminality Exposed
Pfizer, FDA Hid Data Showing Clinical Trials Failed, Says Former BlackRock Advisor
In an interview with Naomi Wolf, former BlackRock investment advisor Edward Dowd explained why Wall Street lost faith in Pfizer and Moderna stocks when Pfizer and the U.S. Food and Drug Administration tried to hide clinical trial data.
More Memes Bonanza
Interview of the week
Videos of the week
Ivermectin Decreases Mortality –
In this large study, regular use of ivermectin as a prophylactic agent was associated with significantly reduced COVID-19 infection, hospitalization, and mortality rates.
---
Free State Project Corner
State of The Free State, 2022 presented by Jeremy Kauffman –
Free State Project Board Member Jeremy Kauffman closes out the 2022 New Hampshire Liberty Forum with the "State of The Free State" Address, highlighting the successes of the FSP Organization and the NH Liberty Movement over the past year!
Free Stater's Motion Cuts Croydon School Budget in Half
Free Stater Ian Underwood's successful motion to cut the Croydon school budget in half from $1.7 million to $800,000 Saturday has the school board scrambling to make the new numbers work and some folks in town furious that it is binding.
The vote last Saturday at the annual school meeting that passed the budget cut was 20 to 14 in a town of about 800 people with 500 registered voters in western Sullivan County.
---
News Of The Week
WHO Looks to Monopolize Health Systems Worldwide –
The World Health Organization's international pandemic treaty signals the organization may be planning to seize power over health systems and push the world toward universal health coverage.
News Of The Week
The Sandy Hook Shooting – A Huge Controversy that Lingers –
James Fetzer, author of Nobody Died At Sandy Hook, It was a FEMA Drill to Promote Gun Control, was unable to present his evidence in a lawsuit brought against him by a parent of a child reportedly killed at Sandy Hook Elementary School in 2012. Fetzer plans to take his case to the Supreme Court. He said that there has never been a determination that anybody ever died at Sandy Hook and that ought to be done before Remington, the gun manufacturer, pays $73 million to settle a lawsuit with parents of children from Sandy Hook.
---
These Solar Panels Also Pull in Water Vapor to Grow Crops in the Desert –
Using a unique hydrogel, scientists in Saudi Arabia have successfully drawn water out of the dry air for growing spinach—while producing electricity from the solar panels that power it all. The system offers a sustainable, low-cost strategy to improve food and water security for people living in dry-climate regions.
---
UK Govt Report Shows the Fully Vaccinated Account for 92% of Covid-19 Deaths in England –
A new government report from the UK Health Security Agency (UKHSA) provided Covid-19 statistics for England from February 7 to March 6, 2022 that indicated that there were a total of 5,681 Covid-19 deaths: a total of 5,216 deaths were vaccinated while only 465 of the deaths were in the not-vaccinated population. The data confirmed that the fully vaccinated population now accounts for 92% of Covid-19 deaths, and the vast majority of those deaths are among the triple vaccinated.
5 Stories Ignored by Mainstream Media While They Focus Solely on Ukraine –
As we have been reporting for the last three weeks, the Russian invasion of Ukraine is horrific. Russian president Vladimir Putin is a thug who is committing war crimes and who is killing innocent Ukrainians while endangering the people of Russia — all the while threatening nuclear war. While this war is not near American soil, because of the United States' involvement in NATO and its relationship with Ukraine, it most certainly affects all Americans.
---
The Everything Bundle
The Everything Bundle – The Sampler of Liberty!
Give me Liberty… and give me more! The Everything Bundle includes the latest version of our flagship book on government, along with a collection of potentially life-altering introductions to anarchy, agorism and voluntaryism.