The Leading Voice of the Voluntaryist Revolution
Exposing the Illegitimacy and Criminality of "Government" while Making the Voluntaryist Case for Free Markets, REAL Freedom and Peace.

Become an Art of Liberty Sponsor
Together, we can challenge the existing paradigm, provide uncensorable evidence of "government" illegitimacy and criminality, and pave the way for a future where voluntary cooperation, personal freedom, and limited government are at the forefront.
Hey! We've raised $1,315.34 of the $50,000.00 we are trying to raise for this campaign!
We believe…
in the power of innovative media to transform minds. Through our captivating books, articles, podcasts, videos, and infographics, we cater to visual learners and busy individuals. . We simplify complex ideas, make historical patterns apparent, and make the previously invisible, now visible through visualization.
Our goal…
is to end war, eugenics and tax slavery. While others are hacking at the branches of evil, we are striking-the-root by widely exposing the illegitimacy and criminality of "government" and the tricks and techniques it uses on kids to indoctrinate Statism into an unsuspecting public using mandatory schools, scouting, police and military training, and propaganda woven into monopolized media.
The One Way Revolution
We are achieving the "One-Way Revolution" by fundamentally changing the way that the population understands "government."  No one likes to get tricked, suckered and "chumped" and once people understand how the magicians "pull the trick", very few return to belief in an unethically indoctrinated pseudo-religion and/or voting in rigged elections.
Are you tired of the status quo and the limitations it imposes on personal freedom?
Ignite the Flame of Liberty, Empower the World!
Research for a Freer
Future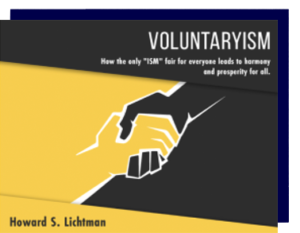 Our research explores strategies for effectively exposing and transitioning from organized crime/governmental control to voluntary, self-selected communities.
By dismantling the illusion of government legitimacy, developing uncensorable distribution, and proving the case for real freedom and free markets, we inspire positive change and empower individuals to embrace liberty.
Join us in challenging the status quo, spreading our message far and wide, and exploring alternatives that promote voluntary cooperation, personal freedom, and limited government. Together, we can create a future where individuals thrive in societies built on principles of voluntaryism, free markets, and the protection of individual rights.
PLEASE HELP US "BE THE CHANGE" WE WOULD LIKE TO SEE IN THE WORLD!
Stay informed and engaged with our diverse range of publications that cover a wide spectrum of topics related to freedom, liberty, and limited government. Explore our three unique substacks, each offering its own distinct perspective and valuable insights. Explore our publications and choose the substacks that resonate with you. Each one offers a unique perspective, enabling you to delve deeper into the ideas that matter most to you. Stay informed, challenge the status quo, and join the conversation.